An Overview of MiniTool Partition Wizard
MiniTool Partition Wizard, an expertized partition manager, has been developing over decades. To provide a better user experience and fix known bugs, new MiniTool Partition Wizard updates are released continuously.
Tip: MiniTool Partition Wizard 12.6 is the latest version at present. Compared with previous versions, it gets a brand-new and enhanced interface for the Data Recovery feature. Moreover, it adds compatibility for Windows 11.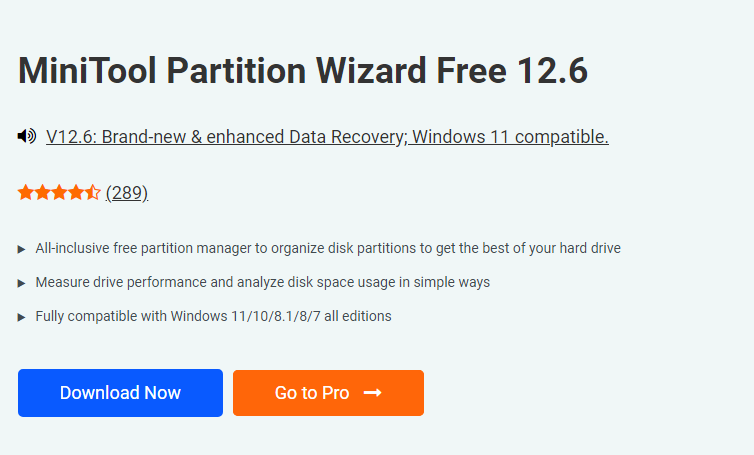 With this software, users can execute various tasks associated with partitions and hard drives. Furthermore, MiniTool Partition Wizard supports various storage devices including HDD, SSD, SSHD, USB flash drive, SD card, TF card, XD card, dynamic disk, hardware RAID, and so forth.
Besides, MiniTool Partition Wizard is safe and easy to use. It comes with free and trial editions so that different user demands can be satisfied. To download and install MiniTool Partition Wizard on the computer, simply click here and follow the on-screen instructions to finish the process.
Featured Functions of MiniTool Partition Wizard
What does MiniTool Partition Wizard do? It can be learned from the following featured functions.
Data Recovery: Data from the logically damaged partition, formatted partition, and even the RAM partition can get back through this feature. Deleted or lost files/partitions on both internal and external hard drives can be recovered too. Importantly, over 70 kinds of files (smaller than 100MB) are allowed to preview.
Disk Benchmark: It tests the disk speed utilizing disk access scenarios like sequential and random and variable transfer sizes. During the process, other settings like thread number, queue number, and cool down time can be configured too. The test results are shown in the form of graphics.
Space Analyzer: It can find what's taking up space on the hard drive easily. This is helpful while freeing up disk space.
Bootable Media Builder: It helps create a bootable CD/DVD/USB drive so that an unbootable computer can boot from it.
Move/Resize Partition: It changes the size and location of the partition. By doing so, the free or unallocated space of the hard drive can be used to the largest extent.
Extend Partition: It enlarges the partition by taking free or unallocated space on the hard drive.
Migrate OS to SSD/HD: To migrate the system or upgrade a hard drive without reinstalling OS, this feature is recommended.
Convert MBR to GPT: It converts MBR to GPT without data loss, which helps a lot during the partition style conversion process.
In addition to the above features, MiniTool Partition Wizard also allows rebuilding MBR, wiping a disk, converting FAT to NTFS, setting active, creating/formatting/deleting/copying partition, etc.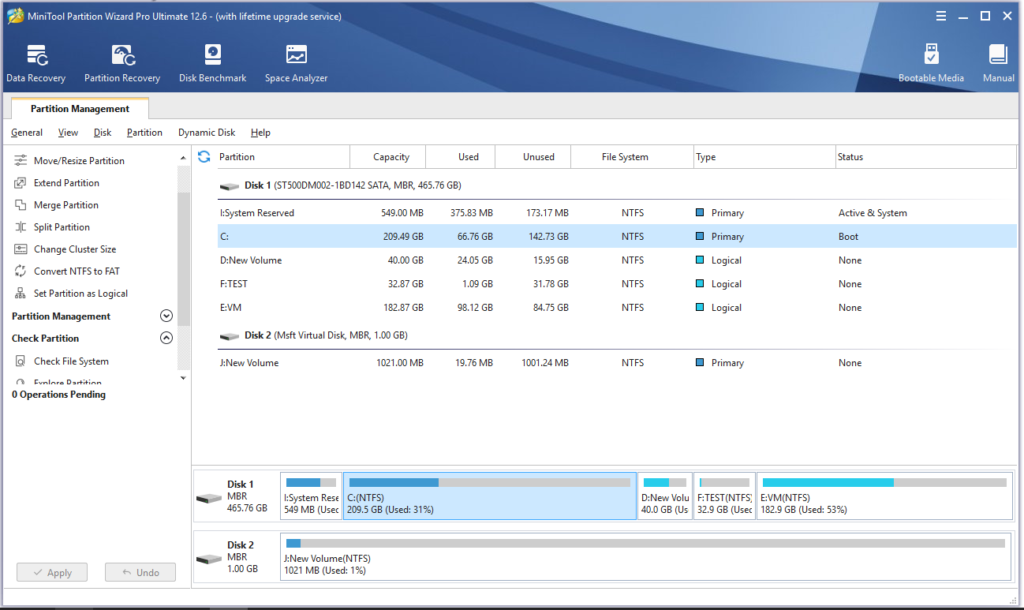 To sum up, MiniTool Partition Wizard is an all-in-one partition program. It could be a duplicate file finder, SD card formatter, MBR2GPT tool, file deleter, junk file cleaner, or PC optimizer.
Pros and Cons of MiniTool Partition Wizard
Like other programs, MiniTool Partition Wizard has pros and cons. They are listed as follows.
Pros
It has a simple and clear interface.
It is easy to use.
It allows formatting a partition over 32GB (up to 2TB) to FAT32.
MiniTool Partition Wizard Portable Partition Manager allows managing hard drives and partitions without installing the program.
In addition to English, it supports other languages including Japanese, French, German, Spanish, Portuguese, Italian, and Korean.
It provides 24*7 technician support.
Cons
It is only available for Windows systems such as Windows 11/10/8/7.
Pro or higher editions are required for some features. (For more detailed information, please refer to this comparison chart.)
In conclusion, MiniTool Partition Wizard is a multifunctional disk management tool. On the one hand, it has a straightforward interface. On the other hand, it has powerful and reliable features.