How to Match your Mobile App Design and WordPress Theme?
Do you have a WordPress website? In this case, you are probably already building a mobile app for your website with a no-code app maker.
Codeless development solutions have become the norm. For WordPress website owners, there are a number of free development tools to create an app using their website.
Development, in essence, is no longer a big challenge. A reliable app builder software like AppMySite can empower any WordPress website owner to build an app effortlessly. This video highlights the simplicity of building apps with AppMySite:
While using a website to build an app, there is a natural inclination to harmonize the website and app appearance. AppMySite offers a ton of design features and tools that enable you to sync the design of your WordPress theme and mobile app.
This piece takes AppMySite as an example to discuss how to match the design of your mobile app with your WordPress theme.
1. Upload your own artwork
AppMySite enables you to design key elements and screens using the tools available on the platform. You can additionally choose to upload artwork for a wide range of different app elements and screens.
On AppMySite, you can upload artwork for:
App icon
Launch screen
Login & signup screens
Home Screen banner
These elements and screens set the tone for your entire mobile app. You can create designs that match your WordPress theme and upload them to AppMySite. The core screens of your app will thus match with your WordPress theme seamlessly.
To create brand singularity, syncing both website and app design is essential. AppMySite enables you to establish design consistency by making it easy to use custom-made artwork for key app screens and elements.
2. Set the color theme
The color theme basically refers to the color pattern your theme follows on every webpage. While users may lose track of exact design details and artwork, the color theme leaves a mark.
For instance, we may fail to recall the web design of Facebook, but it is easy to recall their color scheme: white and blue. When we think of popular companies, brands, websites, and apps, we often recall their basic color scheme.
People using your website and app should ideally think that both are part of the same ecosystem. A consistent color scheme can help achieve the same.
AppMySite enables you to set the color theme of your entire app. You can basically set the same color scheme your WordPress theme follows, thus creating a design sync between both.
The color scheme you set is then reflected across every screen of the app. Both your website and app users can thus interact with your brand with an increased level of familiarity.
3. Sync your website and app
The main reason you should use your website to build an app is to establish a level of synchronicity. AppMySite imports all your website content in the app. This includes your blogs, pages, products, categories, menus, and more.
Many website owners create and design their website content based on the theme of their website. For instance, let's assume you have a WooCommerce store with a light color theme. The product mockups you add on the product pages should mix well with the theme. The same is true for category images too.
Since AppMySite imports your website content as it is, your app will account for the same theme considerations as your website. In other words, you can seamlessly integrate your app design and content without worrying about aesthetic and content mismatch.
4. Simplify navigation across the app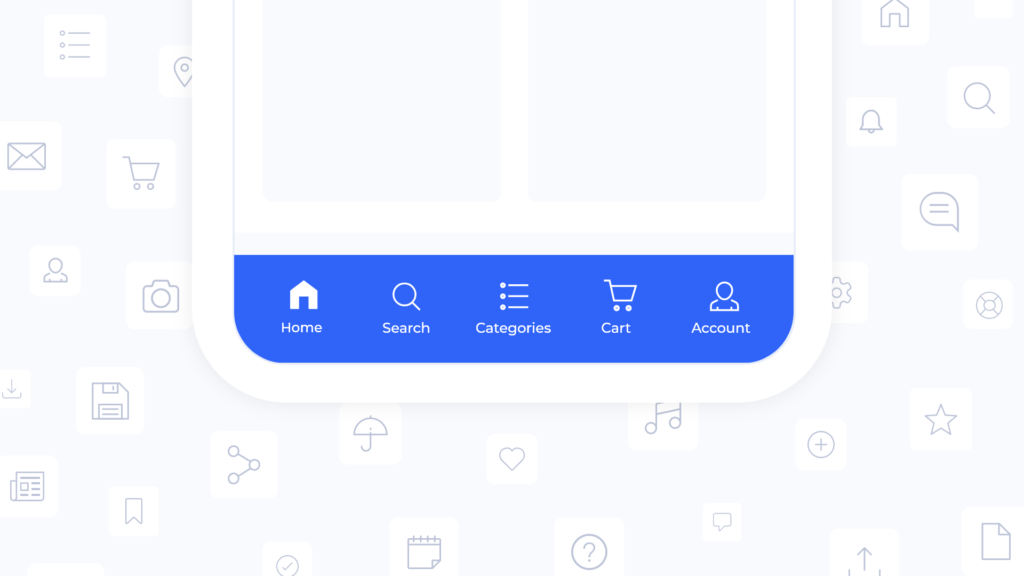 Websites offer simple navigation through their well-made menus. On your website, visitors can use your menu and navigate to a specific page with a simple click.
Offering the same level of navigation on the app is crucial. A free iOS and Android app maker like AppMySite enables you to add a bottom navigation bar and a hamburger menu in your app.
On the bottom navigation bar, you can add up to five items and choose a destination for each. This will enable your app users to navigate seamlessly across the app.
For the hamburger menu, you can directly import your website menu to the app. You can import any menu from your website to the app and show it in the hamburger menu.
Both these menus significantly enhance navigation on your mobile app. You can thus offer your app users the same level of mobility that you offer on your website.
In conclusion
Matching your app appearance with the WordPress theme is very easy with AppMySite. You simply need to replicate your design tone and artwork on the app. By importing website content to the app, you can even enable your users to enjoy the same experience they get on your website. As a brand, offering consistency on both your website and app is essential. This becomes simple with an intuitive app builder like AppMySite.