Top Screen Recorders for Your Business and Why You Need One
A software or application used to capture screen activities is called a screen recorder. Every once in a while, we may feel the need to record the happenings on our computer screen. Thanks to the several screen recorders available that we can capture video or some clips from our PC.
In this time, when everything is coming online, the importance of good screen recording software is more than ever. If you are running a business, you would need a well-designed screen or video recorder more than anybody else.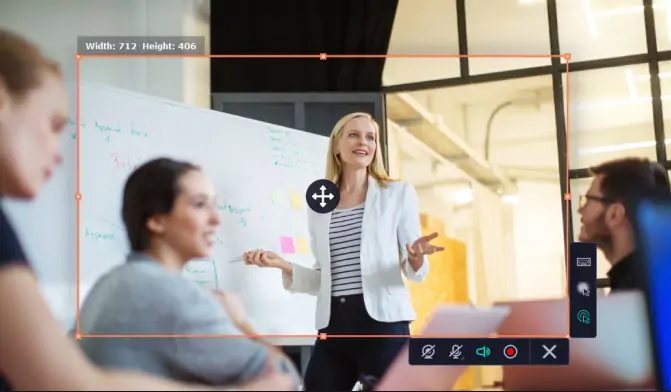 Why You Need A Screen Recorder
Among all the business software and tools, screen recorders are the most underrated. Apart from capturing your screen activities, you can use these tools for several other purposes.
If you are not able to meet your prospect physically, the only option is face-time. In case you want to share the contents of that meeting with your team, a screen recording software mac is a perfect solution.
A screen recorder allows video screen capture on mac, and you can share it with your team quickly and efficiently. You can also record live meetings with a screen recording software for mac to use as a reference in the future in case you forget an essential detail.
With a screen capturing tool, you can create detailed tutorials for your employees and clients to increase their training's effectiveness. Besides, you can record the screens of your employees to get an insight into their performance. It will allow you to supervise your team without actually being present there.
Top 7 Video Screen Captures for Mac and Windows
Movavi Screen Recorder
If you are looking for a cost-effective screen recorder for your business, Movavi seems to be one of the best screen recorders for Mac and Windows. For someone who would prefer easy-to-use software with a simple interface, Movavi's screen recording tool will be pretty helpful.
Movavi creates feature-packed software that is highly reliable and comes at an affordable price. Its screen recording applications allow you to set up the recording parameters based on your requirements effortlessly.
All you need to do is, select the area you want to capture, adjust the parameters in line with your needs, and you are good to go. Moreover, Movavi offers some advanced features such as schedule recordings, mouse-click effects, and quick conversion of videos through its SuperSpeed tool.
Open Broadcaster Software (OBS)
Being one of the few free software, the number of fantastic features OBS offers is unbelievable. It is a very powerful screen recorder that is packed with several advanced features. OBS lets you capture your screen like a pro along with audio from different sources.
Moreover, it allows partial recording and real-time streaming so that you can capture and broadcast the same content simultaneously.
The software allows you to fine-tune multiple parameters that help you have precise control. The only drawback that you might face with OBS is that it has a very steep learning curve making it unsuitable for an average person who does not possess advanced technical knowledge.
Camtasia
An all-around video editor and screen recorder, Camtasia has got all the bases covered to be one of the best video screen capture mac software. The software includes a variety of tools that provide precise control over essential aspects.
Its layout is designed like a studio which consists of a layered timeline to help you mix, edit, and screencast videos like an expert. Along with the series of visual effects, Camtasia offers a distinctive 'Green-Screen Mode' that allows you to add characters to any video seamlessly.
Moreover, you can turn any short video into an animated GIF with this tool. To make your job easier, Camtasia automatically groups all the frequently used tools in one slot. The designers truly understand the needs of their customers.
There are some minor glitches in the software due to which may crash sometimes. Besides, the response time of its function keys is too long.
Screencast-O-Matic
An offline screen recorder that you can use even without installing it on your device, Screencast-O-Matic could become your next favorite application. This is one of the very few screen recorders that can be recognized as freemium, which means that you can use its free trial version as long as you want.
The free version of Screencast-O-Matic can serve your basic recording requirements, but you have to pay to use its advanced features. You might be wondering how this software works without installation? Well, you will need to install its 'Launcher' instead of the actual software. However, the screen recording is initiated through its website only.
There is a time limit of 15 minutes to screen recording with the free version of this software. It is capable of capturing audio from only one primary source.
Loom
 It is a screen capturing extension optimized from Chrome that allows its users to create and share media files. Loom is an easy-to-use extension tool that helps you record your screen, edit the content and share it with your employees, friends, and family.
This extension tool can be used for professional training, meetings, or just for high-quality video chats. The recording tool has several benefits, such as easy installation, high-quality recording, and smooth editing.
However, the cons of Loom cannot be ignored. It is exclusively optimized for Chrome and does not work on other browsers. Though it records your screen activities in high quality on a laptop or a desktop, the video quality is significantly compromised when used on a mobile or tablet.
Screencastify
Screencastify is an ultra-simple screen recording extension that will revolutionize the way you communicate at your workplace. You can capture, trim, join, edit, and share videos within seconds. You can use this tool to share screen videos instead of typing long emails.
This screen recorder extension is excellent for churn management, communication management, feedback collection, and editing video content. Like Loom, this extension is also optimized only for Chrome.
Screencastify is best suited for entrepreneurs, teachers, managers, and designers. There is no free version of this extension, and its license is priced at $24.00 per year.
ScreenCapture
Everybody will prefer a free online screen recorder that offers all the necessary features that you may need from any software of its kind. The best aspect of using ScreenCapture is that it does not need you to install the software or any launcher. Nor do you have to add an extension file to your browser. You can simply go to Screencapture.com and start recording.
Unlike Screencastify and Loom, this is online software and not an extension. Therefore, it can be used on any browser. ScreenCapture was very close to becoming the perfect screen recording software for your business, but it lacks several additional features that you may like to have.
Final Thoughts
Our list is dedicated to providing you with the best options for free and paid screen recorders for your business. We hope you have learned everything you need to know before choosing your company's correct software.
Although you must decide which software is best for you according to your business's needs, if you want to rely on us, our choice will be the Movavi screen recorder that offers all the features you can imagine at a fair price.